By Nerida Conisbee,
Ray White Chief Economist
In February, house prices in Australian capital cities remained stable, according to data analytics company, Neoval. Prices have now increased by 1.9 per cent since December. If this is the end of the pricing downturn, peak to trough, Australian house prices have fallen 6.9 per cent. We may not be in for another COVID-19 like price surge but it does appear that conditions have stabilised.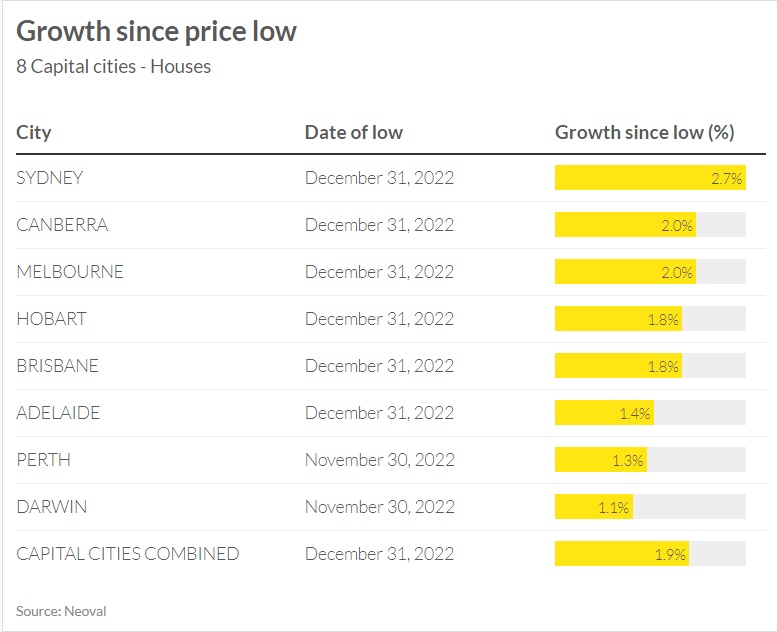 Sydney has led the charge. Prices are now up 2.7 per cent since December. Expensive areas that saw the biggest falls such as the eastern suburbs and northern beaches are rising again.
All capital cities, however, are now up from where they bottomed out. A turnaround in Perth and Darwin happened a month earlier. Less sensitivity to interest rates, lots of people moving to these areas and boom times in mining have led to prices ticking up.
If house prices do now show a continual increase from this point forward it highlights the complexity of property markets. House prices are very sensitive to interest rates and there is almost complete consensus that these will continue to increase for a bit longer. We also have a lot of loans coming off fixed rates and this is likely to make some investment properties less financially attractive. It will also mean that holding a vacant property such as a holiday home, less desirable. It is likely more properties will come to market.
But at the same time, Australia's population is increasing by 300,000 people per annum. Dwelling approvals are falling and construction costs are up 20 per cent and unlikely to fall. Rents, possibly the best determinant of housing shortages, have been increasing at record rates. The number of properties for sale is down over 10 per cent since last year and the number of active bidders at auction has been steadily increasing since it hit a low in June last year.
I witnessed the challenges being faced most recently while in Brisbane and the Gold Coast. Queensland's population has increased by 100,000 people over the past 12 months. At the same time there is an infrastructure and commercial property construction boom that is pulling trades away from building houses. More houses have become unavailable due to flooding and need repairs.
In February 32,000 foreign students will be returning to the Gold Coast at a time where there is already a significant housing shortage. The Gold Coast mayor is now encouraging people to rent out spare rooms to these students for between $250 and $315 per week. It is one way to utilise housing more efficiently.