Presented by Snooze
16 Feb 2023, 1:37pm
Looking to level up your bedroom? Interior stylist Catherine Heraghty shares some of her go-to tricks for maximising your bedroom space.
When it comes to your bedroom, it's not the size of the space that matters — it's how you use the space that counts.
A less is more approach will imbue a sense of space and calm, especially when you're looking to create a sanctuary of rest and relaxation. Cluttered, cramped, or confined areas are a sure-fire way to sabotage these goals.
Regardless of the area you're working with, there are a few key considerations when it comes to designing a bedroom that is stylish, comfortable and conducive to recharging your body, mind and mood.
From multi-purpose pieces and floating shelves to clever furniture arrangement and ambient lighting, strategic style tweaks can transform your bedroom from a slumber cave to a sleep oasis.
Here are interior stylist Catherine Heraghty's top tips for making the most out of any space.
1. Use multi-purpose furniture
Forget the days where a bed is just a bed, or a table is just a table, furniture needn't have just one purpose. Think a bed with built-in display shelves, a bed with storage, or a loft bed that allows for a study nook underneath.
If you're working with limited space, multi-purpose furniture can offer a plethora of space-saving benefits while also complementing the overall aesthetic of a room, Catherine says.
"If you're short on storage, dual-or multi-purpose furniture is your soon-to-be best friend," she says.
"Ensure it can house a majority of your storage needs without having to use other pieces of furniture that block much-needed space."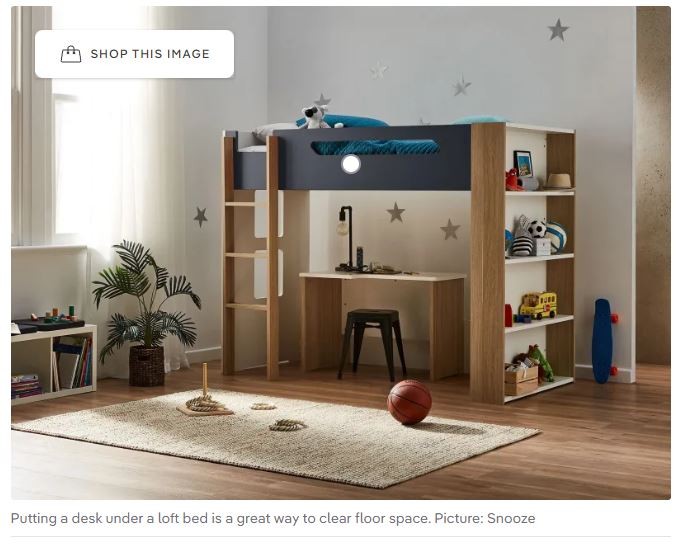 Bingo Loft Bed
2. Think vertically
When it comes to freeing up floor space in the bedroom, walls are an often overlooked area.
"Utilising vertical space is a great solution for tight quarters," Catherine says.
"Use vertical spaces behind the doors of your cupboards for storing smaller items that would otherwise clutter your room or try leaning a ladder shelf against the wall and using it as an organiser."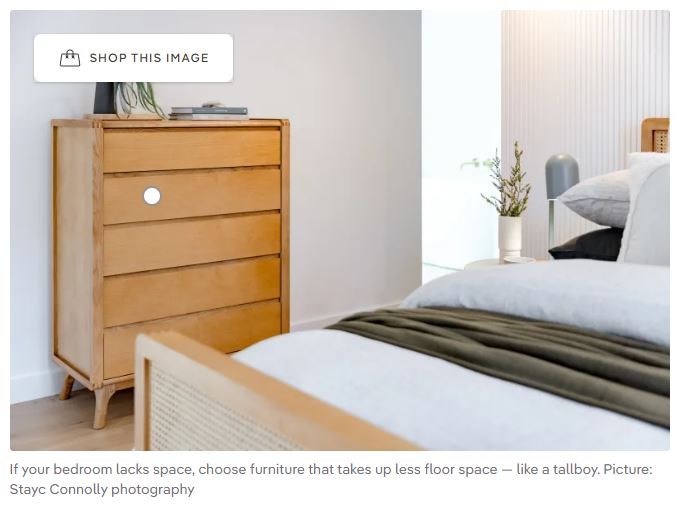 She says working upwards and utilising furniture pieces with height is another simple way to create more space.
"Tallboys require less floor area than a traditional dresser or set of drawers but often provide just as much storage."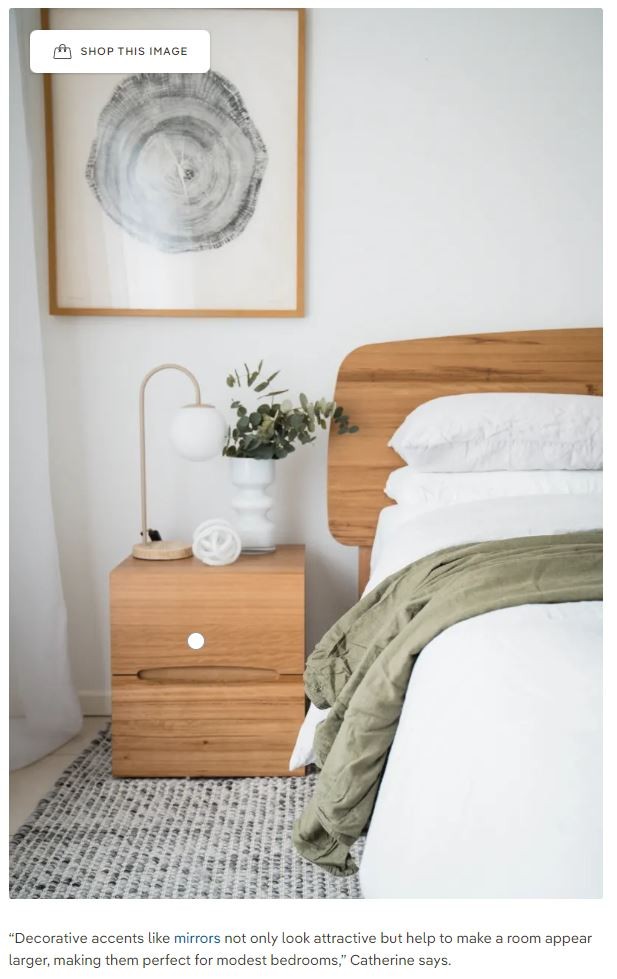 "Decorative accents like mirrors not only look attractive but help to make a room appear larger, making them perfect for modest bedrooms," Catherine says.
"Avoid freestanding mirrors that take up precious space and instead mount your mirror on the wall."
4. Float your shelves
Looking for a stylish space-saving solution? Hello, floating shelves.
"They're simple, practical and allow you to save on much-needed floor space," Catherine says.
"Plus, they're a great alternative if you can't fit a bedside table by the bed."
Floating shelves are an elegant way to put some of your most treasured possessions on display. However, Catherine says to be careful that you don't overdo it.
"Not all items might be suitable to be stored in clear view so try incorporating small storage cubes or rattan baskets, as they'll help you maintain a cleaner look."
5. Consider your arrangement
While we might not all have the luxury of space, paying attention to the layout of your room can make a big difference to how it feels and functions.
"If space allows, positioning the bed in the centre of a wall creates symmetry and offers practicality with the ability to access the bed from either side," Catherine says.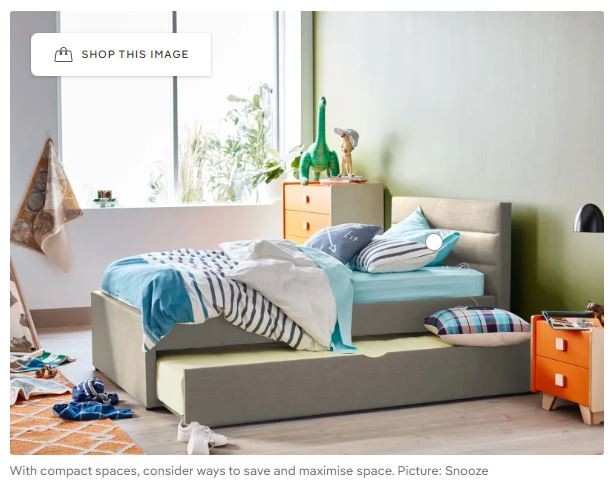 In compact kids' bedrooms, bunk, loft and trundle-style beds are a great space-saving alternative to traditional styles.
"Loft beds are fashionably compact, making them ideal for smaller spaces," she says.
"By raising the height of the bed, it creates space underneath for storage, study or play."Or if you're looking to make sleepovers a breeze, Catherine says trundle beds, which have a mattress stored underneath that can be rolled away when not in use, are a simple yet practical solution.This article was originally published on 16 Feb 2023 at 10:43am but has been regularly updated to keep the information current.
RELATED TAGS
Bedroom Furniture
Home Design
Interior
Styling
Snooze has been giving Australians a better night's sleep for more than 45 years – and with more than 80 stores Australia wide it has most bedrooms covered. From mattresses and linen to locally made, customisable bed frames and bedroom furniture, our friendly and knowledgeable bedroom specialists are here to help create a bedroom you love.